Employee Spotlight - Joanne Quinn
Growing up in a small, blue collar town in Rhode Island, Joanne Quinn had simple dreams. She wanted to get married. She wanted to have children. And she wanted a stable job, perhaps one that put her great organization skills to use.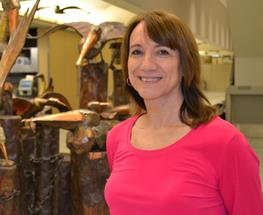 Now Tampa International Airport's Payroll Manager, Joanne is in the perfect spot. Her children are grown, she lives in sunny Florida and she works in a job she loves and does well.
"Working in payroll, I get to meet a variety of people and touch every department at the airport," Joanne said. "It's a lot of fun."
Joanne grew up in Pawtucket, R.I., one of three children to a homemaker mother and a factory worker father. She married and had her first child, Christopher, at age 17 and when he got a little older, she got her first "real job" answering phones and doing accounting work for the Sears, Roebuck and Co. catalogue.
She had two more children, Brianna and Shannon, and later became the Deputy Treasurer for the tiny Rhode Island town of Hopkinton, which had a population not much larger than the number of employees at TPA. She managed the town's payroll and accounts receivable department for 11 years.
"All of my career, I've done jobs that work with numbers and accounting," Joanne said. "I'm very detail-oriented."
In 2001, her husband, who worked as a distributer for Snyder's of Hanover pretzels, had the opportunity to move to Florida, which they were more than ready to do. They were tired of the long, cold winters and wanted a change of scenery.
After moving to St. Petersburg, Joanne got a job as a staff accountant for an insurance company until that company moved out of state. She then worked for a beauty supply company in Largo until about eight years ago, when she saw the job for an Accountant I position at the  Aviation Authority  on the Hillsborough County Civil Service website. She applied, got the job in May 2007, and then a few years later she became the Authority's Payroll Manager.
Joanne enjoys working with so many different people and staying on top of changes in procedure and new processes in the airport's payroll department. She was also surprised when another Joanne joined her office suite and is also from Rhode Island – Manager of Training and Development Joanne Delmonico.
Having grown up watching their children play soccer, Joanne and her husband Bob now love attending Tampa Bay Rowdies games in St. Petersburg, where they live. They also go to Tampa Bay Lightning games and sometimes travel north to see their children. One son and daughter still live Rhode Island and the other daughter lives in the Atlanta area.
Joanne and Bob have been happily married for 43 years.