Employee Spotlight - Jennifer Orr
(Sept. 6, 2018) Jennifer Orr knows a potential Spanx customer when she sees one. It might be a woman pausing in front of the Airside C store to gaze at leggings as she's pulling her carry-on behind her, or a puzzled-looking man wondering if he should pick up some garments for a significant other. Some customers come to her in despair.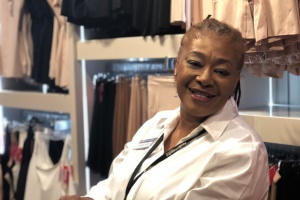 "I hear all the time, 'I packed everything but underwear,'" Orr said. "Or, 'I'm going to a wedding and I have no strapless bra.' I love to introduce them to a product that works, something that makes them feel good."
Orr draws Tampa International Airport passengers in with her warmth and her charm. Her quirky sense of humor, friendly Jamaican accent and ability to get a quickly get someone into a comfort zone helps her sell tens of thousands of dollars in Spanx shapewear, intimate wear and clothing each month. It's not unusual for someone to stop into the store just to browse and walk out minutes later with 18 items costing $1,300, as one customer did last month.
She has been a Sales Associate at the store since it opened in July 2017 and even Orr, with her extensive retail background, is surprised by her success. She applied with concessionaire Paradies Lagardere and didn't know where they would place her at TPA but was hoping it would be somewhere exciting with lots of sales potential.
"When I found out I was going to work at Spanx, I almost cried," Orr said. "I thought, 'Who's going to buy underwear at an airport?'"
She has since changed her tune.
"It's brilliant marketing, really," she said. "This is the perfect place for a Spanx. I meet so many different people in so many different scenarios."
Orr move from Jamaica to Toldedo, Ohio, when she was a young teen, and became somewhat of a teacher's pet immediately because of her seriousness when it came to schoolwork. A debutante throughout high school, she had her sights set on being a fashion designer. While studying fashion merchandising, she modeled and also interned at Harrods department store in London, where she helped shut down the store once so the Queen could shop there.
Throughout the years, Orr owned her own boutique shop and managed large department stores in the Maryland and Washington D.C. area while raising three sons. Wanting to get away from the cold, she moved to the Tampa Bay area in 2005 and worked for Kohl's and other large department stores as a buyer and department manager.
When she was ready for a change, she looked online and found retail positions available with Paradies and decided to take a chance. She has never looked back and is thankful to Paradies TPA General Manager Jim Mackey and Assistant General Manager Tim Carlin for hiring her.
"Tampa International is a fun place to work and I've really met some nice people," Orr said. Active in her church and strong in her faith, she has even prayed for customers who seem to be going through a particularly hard time. She loves making new connections as well as seeing repeat customers pass through as they're flying through TPA.
In her free time, Orr loves teaching Sunday school class at her church and gardening at her home. She still ponders the idea of one day enrolling in college courses to finish her fashion design degree.
"You read about those 90-year-olds who go back to finish college," Orr said. "That will be me."