Employee Spotlight - Jeff Browning
(June 2, 2016) Like many new high school graduates, Jeff Browning wasn't quite sure what he wanted to do after getting his diploma at his small town school in southern New Mexico.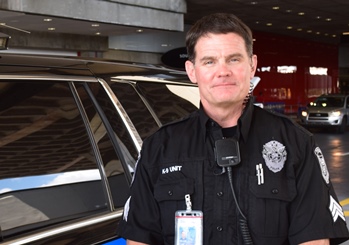 He worked a couple years in construction, then decided to follow his heart and pursue jobs to satisfy his adventurous spirit and love of the ocean. It hasn't let him down since.
Now a Tampa International Airport Police Sergeant, Browning spent much of his prior career swimming among sea life in the Pacific Ocean, visiting various islands, diving and boating for law enforcement agencies, doing tactical work on S.W.A.T. teams and now overseeing K9 units at TPA.
"I guess I've always been at the right places at the right time," Browning said.
It began when Browning joined the Coast Guard as a young adult, serving four years, with much of that time in Hawaii. He did maintenance as a diver, repairing underwater navigation aids and conducting other operations along the north and south Pacific, including the Midway Islands and Samoa.
"That was a life-changing experience," he said.
Once he finished his service, he moved to Santa Barbara, Calif., to study commercial diving at a community college. After earning his associates degree, he joined the City of Santa Barbara's Harbor Patrol. As a boating officer he did a little bit of everything: Law enforcement, emergency medical response and even putting out fires.
Seven years later, he went to work for the Farmington Police Department in New Mexico, living just across the border in Durango, Colorado. He enjoyed working as a patrol officer, S.W.A.T. member, narcotics investigator and other exciting positions while living among the mountains.
But after eight years, he missed living near water. California was too expensive so he began looking at positions in the Tampa Bay area, where he had friends and was familiar with the region. On one of his visits, he was sitting at Tampa International Airport when he looked up and spotted a uniformed TIAPD officer.
"Huh," he remembers thinking. "Airport police … I never thought about that."
He looked online and sure enough, there was an open position for a TIAPD officer. He applied, and about four months later, he was packing his bags to move to Florida.
Since joining the TPA team in December 2013, Browning has found new adventures as a K9 Unit Supervisor. He likes the customer service aspect of being an airport police officer, and he gets to practice his "bad Spanish."
He's also in awe of the experience and skills of his law enforcement colleagues, many who came from "legendary" careers at other agencies.
Browning lives in southern Pinellas County, where he once again enjoys living near the ocean, going out on his boat and paddleboarding. He just began participating in triathlons and his mother moved down here, as well.