Employee Spotlight - James Tarro
(April 5, 2018) If it's on a screen, lights up, makes sound or displays digital info anywhere throughout Tampa International Airport, there's a good chance James Tarro had a hand in it. As TPA's Audio/Visual Support Technologist, he's responsible for keeping guests informed, making sure presentations go smoothly and troubleshooting when things go awry.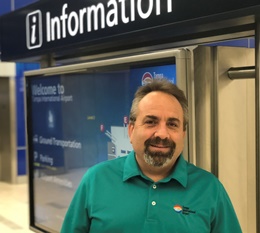 "It's a really fun job," Tarro said. "I get to play with the best of technology."
Tarro's love of tinkering with electronics, systems and inner workings of complex tubes and wiring began as a child taking apart toys and gadgets. He grew up in Watsonville, California, right off the middle of the west coast and moved with his family his junior year of high school to the Tampa Bay area before graduating from Hudson High.
His grandfather and father were both in the business of building and maintaining gas stations and gas pumps, so naturally, Tarro went into that line of work too. He helped transition station pumps into the era of electronic card readers, working with fiber optics and newer technology that helped set him up for the next phase of his career.
For a couple of years, he worked as a project manager for Radio Shack Installation Services, mainly setting up and repairing computer, voice and data networks for offices. From there, things got interesting.
In 2004, Tarro took a job at Busch Gardens installing, maintaining and repairing computer systems, digital signage, audio-visual equipment and phone lines throughout the theme park. Often, he had to enter an animal enclosure to install a phone line or make a repair. Although the animals would be separated by a barrier when he entered, he had unusually close encounters that he remembers fondly.
"One time I was installing a phone line and I heard a big roar and look back to a tiger behind me," Tarro said. "I nearly hit the fence. To hear that sound so close makes your hair stand up."
After a decade at Busch Gardens, he was ready for a change. About three years ago, he took a job at TPA, a place he finds even more exciting than a theme park.
"There's so much going on at an airport, and I love the attitude here among the employees," Tarro said. "Everyone is generally pretty upbeat and happy and you always feel appreciated and valued. There's always bumps in the road in any project or presentation, but when it goes smoothly without anyone knowing there were bumps, that's a good day."
In his free time, Tarro loves fishing and doing remodeling projects around the house. Tarro recently bought a home in Spring Hill, where he lives with his wife of nearly two decades, Kathleen, and their children: 25-year-old Christine, 14-year-old James III and 12-year-old Katelyn.