Employee Spotlight - James Hanney
It's hard to imagine a time when Tampa International Airport's soft-spoken, friendly and laid back Procurement Agent James Hanney considered himself a "tough guy." So tough, in fact, he joined the Marine Corps after high school.
"At least, I thought I was tough," Hanney said.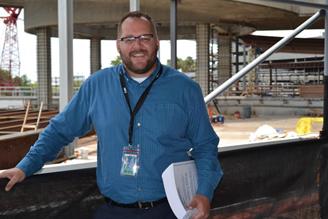 The rigorous boot camp and four years active duty was good to him, though, and gave him a taste for public service – as well as procurement – which he decided he wanted to pursue throughout his career. While in the Marines, he worked as a supply administration and operations specialist, which included procurement processing.
After the Marines, James moved back to the Tampa Bay area, having grown up in Brandon, and he studied history at the University of South Florida, going on to get his graduate degree in entrepreneurship. He worked for a private entrepreneurial company for five years, but always knew he wanted to work for a government agency again.
He then applied for a procurement job with Hillsborough County, and after two years in the public sector, found the perfect fit by joining Tampa International Airport's Procurement Department.
"One of the things I really like is that although we're a public entity, we have a very entrepreneurial spirit. I feel like it's a good fit for me because I bring experience from both backgrounds".
And he came at the best time.
In the two years Hanney has been at TPA, he's been involved in some of the most important projects of the Airport's Master Plan, including procurement for the Automated People Mover, the various rental car contracts for the new rental car facility, and now he's the procurement agent for the exciting Public Art Program.
"It's interesting working with so many different personalities and collaborating with a lot of different people," Hanney said. "It's never boring."
Hanney enjoys the reading, research and attention to detail that goes along with his job. He loves the consistency, fairness and openness of working in public procurement, and he likes feeling like his work touches so many aspects of TPA, as well as the community.
"Especially having grown up in this region, I take a lot of pride in doing things to help it grow," he said.
As a brand new father, Hanney lives with his wife of three years, Christine, and his new 3-week-old daughter Kate. He has family in the area, as well as family in England, where he was born and lived for four years before moving to Brandon. The couple also has two very smart miniature Australian shepherds, named Cooper and Charlie. 
Hanney was always into sports as a kid – football, basketball, soccer, baseball – and is now a typical Tampa Bay sports fan that follows the Buccaneers, Rays and USF Bulls. He has traveled to many parts of Europe and Japan while in the military and for fun, and he likes to read when he has time.
He also likes craft beer, though his few attempts at home brewing didn't quite meet his "high standards," so he mostly sticks to drinking it.
Hanney admits he doesn't have a lot of time for hobbies these days. Aside from adjusting to being a new parent, he is working on a graduate certificate in public procurement through Old Dominion University.