Employee Spotlight - Jackie Smith
Jackie Smith has a way of making you talk. Or laugh. Or take a selfie with her.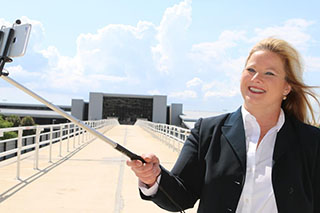 A fellow employee once nicknamed Jackie "The Grand Inquisitor" for her lack of shyness in asking a zillion questions about your life, what you do and how you do it. Her sense of humor is contagious, as is her penchant for selfies, which she collects from her favorite "celebrities" around the airport, including CEO Joe Lopano, who has his selfie with Jackie displayed in his office.
"I consider the people I work with my family," Jackie said. "I like to have fun in whatever I'm doing, and I like to see other people having fun, too."
But along with Jackie's silly side is a serious worker who has a passion for helping others. As the program coordinator for the Real Estate Department, Jackie is responsible for assisting Director of Real Estate Beth Zurenko, taking care of monthly collections from tenants, maintaining the annual phone list, organizing tenant manager meetings and dozens of other tasks. She's also been involved with the airport's United Way Campaign for several years and is the first to volunteer to march in parades and help at outreach events.
"I've always liked helping people, and I have a hard time saying no when someone needs something," Jackie said.
Jackie's family has an interesting history that may explain from whom she gets her generous nature. Her grandmother and mother, then 44 and 14 years old, lived in Germany during the Holocaust. Her grandmother would sneak food in the middle of the night to the camp where her Jewish neighbors were being held after they were captured by the Nazis. When Nazi soldiers found out, Jackie's grandmother was arrested and killed.
Jackie's mother survived the ordeal and later married an American soldier. She moved her and her three kids to Florida, where youngest Jackie was born in Sarasota. Two weeks after she was born, the family moved to Tampa, where Jackie has been ever since … sort of.
After graduating from Hillsborough High, Jackie herself married a military man and moved to Texas and then Germany, where her two children were born in German hospitals. After a total of eight years away, Jackie's family moved back to Tampa.
Jackie worked a series of jobs in banks and then Continental Airlines Reservations, where she first got her taste of the aviation industry. She also worked in the library at her children's school for a few years before deciding she needed a better career to pay her bills. In 1997, she went to work for the Hillsborough County Aging Services Department doing data entry and billing but always had her eye on job openings at Tampa International Airport.
"Everyone always said the Aviation Authority was the place to be," Jackie said.
So as soon as a Public Information Officer position opened in the Authority's Guest Relations Department in 2002, Jackie went for it. She soon found herself on her first assignment greeting guests and handing out commemorative posters at the grand opening for Airside E, as well as helping with marketing projects, which she loved. She later applied for a job as a Properties and Contracts Administrator, which morphed into a Real Estate position, but she still helps the Marketing Department with events whenever she can.
Jackie lives in East Hillsborough County with her fiancé and longtime boyfriend Danny, their dog Sadie and "a thousand squirrels." She loves spending time with her children, 24-year-old Marcelo and 23-year-old Meaghan, and going on adventures on her bright yellow Harley-Davidson.
Jackie and Danny recently bought a travel camper and have been taking weekend trips to nearby state parks. But what really gets Jackie excited is her upcoming birthday trip to Ireland, which she's been saving up for and planning for four years. Jackie has been digging into her family genealogy and plans to visit the birthplace of her great grandfather. She also hopes to see some Irish cousins.
She'll leave for Ireland with her fiancé in mid-May and return in early June. She promises to bring back lots of fun stories ... and tons of selfies, of course.