Employee Spotlight: Helda Durham, Delta Air Lines
(January 18, 2018)  When Helda Durham moved from her longtime home of Detroit to become Delta's new station manager in Tampa last June, she had one fear about Florida: Hurricanes.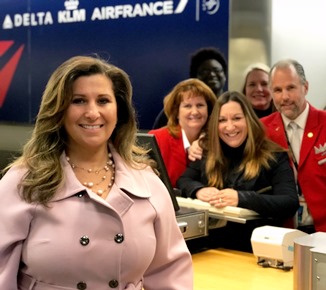 Don't worry, someone told her. The Tampa Bay area hasn't been hit since 1921.
A few months later, she found herself bracing for the approaching Hurricane Irma. But like everything else she's handled since she arrived at TPA, Helda took the Irma preparations and its impact on flight operations in stride. She's very much enjoying her new life in Florida and the Delta team.
"My goal since coming here has been to reiterate the importance of a safe work environment, taking exceptional care of our customers and to feel like we are family," said Helda, who began holding staff town halls with her 200-plus employees shortly after arriving.
Helda's strong work ethic and adventurous spirit have made her a popular new fixture at TPA. And she comes by those traits honestly, crediting her father and mother as her biggest mentors.
When Helda was 10, the oldest of five children, her family left their Baghdad home amid political strife and moved to the United States where they settled among Detroit's Iraqi Chaldean community. Many families owned liquor or party stores but Helda's father, a former general manager for Iraqi Airways, wanted something different for his family.
He approached a man regarding a job.
"Sir, you look like a very important man,'" said Helda's father, according to Helda. "I just moved here with my five children and I need a job. I'll work for you for a few months. If you don't like what I'm doing, you can let me go. But if you like my work, I'd like you to hire me permanently.'"
The man took a chance on Helda's father. Next month, he will be recognized for reaching his 40th anniversary with the company, New York Life Insurance.
Helda studied child psychology and child development at the Eastern Michigan University, but while working on her master's degree in the field, she realized the work wasn't for her. She began working in customer service for Radisson Hotels, and while there, she learned about a job with KLM Royal Dutch Airlines as an Arabic interpreter.
She worked for five years as Customer Service Interpreter, served as a liaison helping travelers with Customs and Border Protection before moving into a position as a customer service supervisor, working various areas of the operation inclusive of the ramp tower and International Operations. She then worked her way up in various positions with Northwest Airlines and eventually Delta.
Last year, Helda came to Florida to help out for a couple of months as an interim Delta station manager for Sarasota-Bradenton International Airport. She learned of the station manager opening in Tampa and went for it.
Helda said she loves the culture at TPA and its keen attention to customer service. She is fiercely devoted to Delta, a company she has found to be very "people-focused" and that rubs off on its employees.
"It is a terrific company to work for," Helda said. "There's a strong emphasis on employee relations and employee engagement and that translates into more thoughtful and meaningful interactions with the customers.  Taking care of our people is the key to our success."
Helda currently lives in Clearwater while she awaits the permanent arrival of her husband, Greg, who is retiring as an 8th grade science teacher in Novi, Michigan at the end of this year. She has three children – Bailey, who graduated from Cental Michigan University in May and is working for National Geographic; Christian, a senior at Michigan State University studying pre-med; and Noel, a junior at Novi High School who loves theatre and acting.
While she's not working, Helda loves traveling and has been all over Europe, Asia and the Middle East. She likes to walk on the beach and go on bike rides, and she also enjoys cooking Middle Eastern dishes.
Helda still has the one item she took from her Baghdad home 41 years ago – a feather pillow that her parents allowed her to bring.