Employee Spotlight - Fran Downes
(September 7, 2017) - As a child of bar owners in Ireland, Four Green Fields bartender Fran Downes likes to say the business is in her blood. She also likes to live by her favorite Irish quote by William Butler Yeats: "There are no strangers here; Only friends you haven't yet met."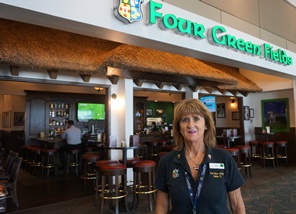 So it's no wonder she's become one of Airside E's most popular friendly faces and even has several regulars who visit her every time they fly on Delta, Air Canada and WestJet. Some take the time to send letters raving about Fran.
"Fran. I should not need mention more," wrote one recent customer. "She is a special person that pulls you in. An absolute pleasure getting to know her and the food was amazing on top of things. Do not let a gem like Fran go."
Another customer who experienced a four-hour delay wrote: "There was a wonderful lady named Fran with the most wonderful Irish accent. Not only did Fran keep me entertained, she was spot on with every customer."
"I spent four years on a TV show in Dublin and it was as if Fran transported me back there," wrote another. "A wonderful experience all around. Next time I'm in Tampa, I'll make sure to visit."
Fran loves working in an airport, where she meets a variety of travelers, some who are weary and need a good laugh or cry.
"Some of them hear my Irish accent and think I'm putting them on," she said. "I love working in an airport bar. It's so funny the number of regulars I get here, some of whom I see once a week."
The youngest of five girls, Fran grew up in the small town of Kenmare in Co. Kerry, Ireland, where her parents owned a neighborhood pub. When she was 17, she and a friend visited New York City, and after returning to Ireland Fran vowed to go back to the States to live one day. She worked briefly at a hospital in Dublin with plans to eventually become a nurse, but she longed to move back to New York so her boss told her to go.
"She said, 'Go and sow your oats for a year and come back,'" Fran said. "Well, I wound up sowing my oats for 33 years."
Fran's easygoing, fun nature was a great fit for bartending as she lived in Brooklyn in the 1980s and 1990s. She wound up marrying an Irish American man who passed away in 2006. After that, a friend whom she had visited several times in Tampa convinced her to move to Florida.
She settled in the Carrollwood area where she worked in Irish bars for several years until she heard about a concessions job fair at Tampa International Airport. Craving a change, she went to the job fair, and after submitting her application and speaking with TPA Hospitality reps, she was hired on the spot to work at Airside E's Four Green Fields, inspired by the popular restaurant pub in south Tampa and designed with an authentic thatched roof.
She began training and was at the grand opening of the bar, where she met Tampa Mayor Bob Buckhorn. Since then, she has met thousands of passengers passing through, some of whom return often to see Fran.
While Fran loves the energy and fun that comes from the hustle of bartending, she prefers a more quiet life at home. She loves reading and going for walks, and she dotes on her little dog named McCready. She likes to have coffee and visit with her large community of friends in the Tampa area, though she also enjoys returning to Ireland at least once a year to see family and friends.
This upcoming holiday season, she's looking forward flying back for a reunion with her sisters. Despite her decision to move to America so long ago, she still feels at home in Ireland.
"I need to get my Irish fix," Fran said. "The culture, the food, the sense of humor … It's a different way of life and I always miss it."