Employee Spotlight: Elio Avila
(June 7, 2018) As the Senior Branch Manager of Sixt, one of the newest rental car companies to join Tampa International Airport, Elio Avila remembers the excitement of watching the new Rental Car Center being constructed last year. Now, he feels like he's in one of the best facilities in the country with one of the best staffs he's ever worked with since joining the rental car business at age 18.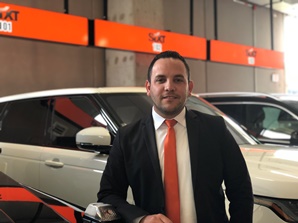 "This is a beautiful rental car center and just a great place to work every day," Avila said. "I've worked at other airports and this is such a friendly environment and well-run facility."
Avila was born in Cuba, where he lived with his parents and three siblings until they moved to Venezuela when he was 7 years old. Several years later, political strife began prompting many families to flee Venezuela, and Avila's family did the same. They moved to the U.S., settling in Orlando, just before Avila's junior year of high school.
"I struggled those next two years since I barely spoke any English," Avila said. "But I learned quickly and passed my FCAT [Florida's standardized testing] and was able to graduate and move on to the next step."
While in college, Avila began working as a rental sales agent at a couple of Orlando car rental companies, working from 9 to 5 while going to classes in the evening. He liked the pace of the work and helping customers, so the career stuck with him even after he finished his degree.
His friendly nature and ability to adapt to change is what propelled his career after a former general manager convinced him to join Sixt in 2012. He began as a rental sales agent in Orlando and after only three months, he was promoted to fleet assistant, then became a branch supervisor, where he learned "more than I could even imagine," he said.
After two years in that role, he got moved up to Branch Manager at a dealership branch in Atlanta, then became the branch manager at Hartsfield–Jackson Atlanta International Airport – the busiest airport in the world.
"That was an intense place to work," Avila said. "It was great experience for me."
Missing his family, who all still live in Orlando and Miami, Avila moved back to Florida, taking a senior branch manager role at Sixt's Cypress Street location in Tampa. When Sixt became one of a half-dozen new brands to join TPA's new rental car center in February, Avila was thrilled to move into the new space.
"My favorite thing here is my staff," Avila said. "We're like family."
While new at TPA, family-owned Sixt Rent A Car has been around since 1912, starting in Munich, Germany, with a fleet of three cars. It now has more than 2,200 branches in more than 100 countries. Avila loves the travel opportunities he's had with Sixt, flying to meetings around the world and even meeting members of the Sixt family that own the business.
When Avila isn't working, he spends time with his family – wife Nari, 3-year-old Sophia and the newest addition, 5-week-old son Thiago. He's a soccer fanatic and plays recreationally when he can, and he also loves outdoors and fishing.
Avila said he's excited about his future with Sixt and with feels at home at Tampa International Airport.
"It's a wonderful place to grow," he said.