Employee Spotlight - Darrell Colestock
Growing up an only child in Brandon, Darrell Colestock was never quite sure about a future career. He only knew that, like his mother, he was very outgoing and enjoyed helping people.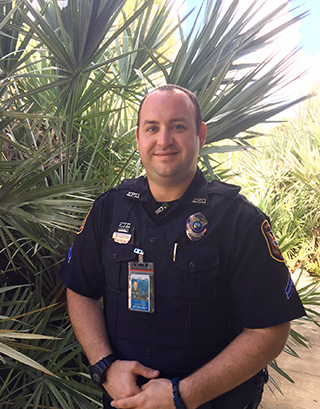 It's what made him successful when he worked at Sears for nine years, starting out during his college years as a cashier and eventually doing in-store marking and moving up to management. And it's how he has been so successful and well-liked as a Tampa International Airport Police Officer during his six years at TPA. Colestock was recently promoted to Corporal.
"I've always liked doing good in the community and keeping people safe, and I also have always been in some sort of customer service role, which I enjoy," Colestock said.
At TPA, he gets to do both. As an airport police officer, his job involves protecting others from crime, including looking for suspicious baggage and helping passengers recovering lost items, two things "they don't teach you at the police academy." But TPA officers also have a greater customer service component to their jobs that most other police officers don't necessarily have.
"It's a balance," Colestock said. "You meet so many different people at the airport, whether they work here or they're just traveling through here. It's a friendly environment, and I love seeing all the change going on here."
Colestock attended Brandon High School, playing football and baseball, and he got his degree in Criminology at the University of South Florida. While in college and for some years afterward, he worked at Sears, where he met his wife, Bridget. After college, he attended the police academy and then landed a job as an officer at Tampa International Airport. Coincidentally, his father, Tom Colestock, worked from 2001 to 2010 in various departments at TPA, including finance, police administration and dispatch.
Some of his duties as TIAPD Corporal include firearms training, defensive tactics training and driving instruction. He hopes to continue his career at the airport for many years to come.
One of Colestock's favorite things about TPA is watching all of the construction projects come together as he patrols the airport's roadways. He's excited about all of the new developments coming and what it means for the growing and evolving TIAPD.
"I feel like the future for the Police Department is very promising, just as it is for the Airport," Colestock said. "As we get a new ConRAC, more flights and more passengers from all over the world, as well as the possibility of businesses and other facilities, we're going to have to grow and adapt to an ever-changing atmosphere."
Colestock recently bought a new home in Seffner, where he lives with his wife Bridget and their two children, 5-year-old Kylee and 2-year-old Wyatt. When he is not spending time with them, he does a lot of events and fundraiser as a Shriner. Since the age of 21, he has belonged to Shriner's International, which funds the Shiner's Hospitals for Children all over North America and provides orthopedic, burn, spinal cord injury and cleft lip and palate care to children at no charge until they are 18.
"I significantly lowered the average age when I joined," Colestock said of the organization known for its membership of mostly retiree-age men.
While the charity work takes up much of his free time, it's something Colestock enjoys. And, just like being a police officer and helping people, it's exactly what he was born to do.