Employee Spotlight - Dan Seeley
Just a decade ago, Dan Seeley was a fresh-out-of-college intern grinding it out on his first major construction site – a job that involved signaling tower cranes, counting rebar and operating the business end of a concrete-pumping hose.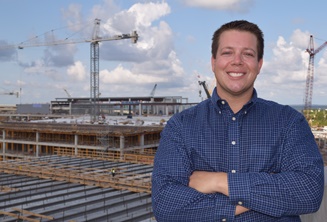 You know, all the fun stuff.
Now, at age 32, he's a Senior Project Manager on one of the largest construction jobs in Tampa International Airport's history.
"It's what I'm made to do," he said. "I always wanted to work on large construction jobs. They're fun, complex and you get to see what your hard work brings you at the end of the day."
Seeley, who joined the Aviation Authority in 2013 and was promoted late last year, is the lead construction manager on the Airport's consolidated rental car center.
It's similar to being the captain of the football team. In his role, he's tasked with keeping tabs on everything from safety and budget to field conditions and quality control – all while keeping an eye on the overall success of the project.
The 2.6-million square-foot rental car center is the biggest and most complex project he's ever tackled. With a price tag eclipsing $320 million, the project has more than 500 workers – plus more in management – and dozens and dozens of different subcontractors working all different types of trades.
With months of heavy lifting in the rearview mirror, the project remains on time and on budget. Seeley credits the whole team and says it's an honor to work alongside such talented people.
Seeley's interest in construction started at a young age. And with a familiar source: Legos.
As a child, he loved building and drafting. In high school, he thought his options were limited to engineering or architecture – neither of which he was all that excited about. One day, he ran into a neighbor who had gone into construction project management. They got to talking, and he knew that was the job for him.
"It's the best of both words," he said. "You get to be involved on the architectural and engineering sides, but you also get to be part of the construction process and see things get built. It's amazing to see what goes into the construction process. It's very rewarding."
A Florida-native from Ormond Beach, he went to the University of Florida and graduated from the School of Construction Management in 2006.
From there, he quickly jumped into the field with DPR Hardin Construction, working on multiple large commercial construction jobs across the country. He helped manage the construction of a $200 million condominium in Tampa, a $200 million project at Disney and a pair of $100-plus million hotels in Florida and Texas.
"All of those projects led me to where I am today," he said. "It's an exciting project to work on and an exciting time at Tampa International Airport."
When he's not working, Seeley is frequently found boating on his restored vintage Boston Whaler (which he did himself), cheering on the Florida Gators and spending time with his wife Nikki.
He also enjoys spending time with his beloved rescue – a poodle named Charlie.