Employee Spotlight - Carolyn Langdon
(December 22, 2016) As a little girl in Cincinnati, Carolyn Langdon would sit on the steps of her dad's basement office and listen to him talk to his Kraft Food Ingredients sales clients on the phone, handling each with impeccable customer service and problem-solving tactics. In third grade, she dressed as a businesswoman for Halloween, complete with a briefcase and suit. She couldn't wait to grow up and be an important executive.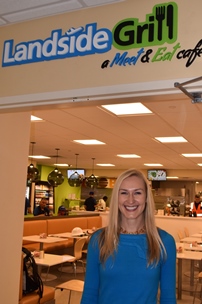 But when she fell sick with pneumonia at age 12, Carolyn laid in bed for days and watched cooking shows, marveling at Sara Moulton's show of hospitality through food. She decided from then on she would be a chef, a decision her parents questioned as she made straight-A's in pre-engineering and advanced placement courses throughout high school.
"By my junior year of high school, my dad was like, 'Wait … Are you STILL thinking about becoming a chef?'" Carolyn said.
To appease her parents, she wound up double-majoring in both culinary arts and entrepreneurship at Johnson & Wales University, setting her up for a career that would take several twists and turns over the next several years. Now, Carolyn is a Senior Business Analyst in the Concessions Department for Tampa International Airport. Next month, she will take a new position as a Business Administration Manager of General Aviation, a completely new field that she's excited to explore.
"After nearly three years in Concessions, I felt like I was ready for a new challenge and I knew I wanted to stay at the Airport," Carolyn said. "I like to learn and general aviation is definitely something new for me."
Carolyn has always liked tackling new challenges, such as beginning her career while still in college with The Breakers Luxury Palm Beach Resort and Delaware North at the Dunkin Donuts Center sports arena. After graduating, she worked as a chef manager for Darden Restaurants for four years, then helped a local startup mobile dog grooming business develop its managing processes, including creating its handbook and operating procedures. She worked briefly for Aramark as a food production manager before coming to work at Tampa International Airport's Concessions team – a move she found very exciting just as TPA was about to launch its concessions redevelopment program.
At TPA, Carolyn has overseen concessions compliance, auditing and inspecting the new concessions operations and making sure they are fulfilling the many details in their contracts.
"A lot of that is helping the new operators understand our high standards and getting used to our culture here at Tampa International," Carolyn said. Luckily, we've had some great operators here."
Carolyn also sat on the evaluation committee for the new Landside Grill employee cafeteria helping shape its development and criteria and assisting procurement in writing the contract, a process she found fascinating.
All the while, Carolyn earned her MBA at the University of South Florida, finishing her degree with a 4.0 GPA in a year and a half.
She's now ready to tackle a new set of duties in General Aviation and can't wait to help market and celebrate the identity of each of the Authority's smaller airports as they undergo their own Master Plan. She loved learning about the farming history behind the Plant City and Tampa Executive airports, as well as the uniqueness of Peter O. Knight Airport's waterfront and residential surroundings.
Carolyn lives in the Brandon area near her older sister Tonya and – no surprise here – she loves cooking and baking as a hobby. She does all of the cooking for her family during the holidays and she often enters recipe contests for culinary professionals, not yet winning one but that doesn't stop her from trying. She also does yoga and Zumba every week and makes it her goal to travel and explore new places every year.
She's not one to stay still very long, always curious about new professions, procedures and programs. Carolyn said she's "always been fascinated with contracts and how they work," and it's piqued her interest in studying law.
For now, Carolyn's newest upcoming venture, which she will start in the new year, is to begin taking circus acrobatics classes.