Employee Spotlight - Carol Clahar
(Oct. 3, 2018) If you've ever had the pleasure of letting Bags Inc. employee Carol Clahar help you at the Rental Car Center's remote bag check center, you've likely experienced the height of customer care. She doesn't just help passengers tag and check their luggage and send them on their way. She listens to them, eases their anxieties, gives them travel tips and even helps families organize their boarding passes and baggage claim checks in their wallets or carry-ons so they're easier to find along their journeys.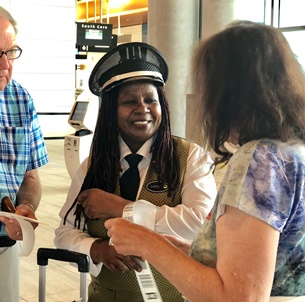 "I hear all the time, 'You must be a mom,'" Clahar said.
While this is true, Clahar has always had a special touch with people. As the oldest of nine children in Jamaica, where she was in charge of things like pressing her siblings' school uniforms before school and cooking dinner while her mother worked for a lock-making factory, she felt responsible for others very early in her life. After later moving to the U.S. as an adult and single mother, she worked several years for Continental Airlines which taught her a lot about airport customer service and the unique needs and concerns of travelers.
Those experiences, she believes, are what make her effective at her job with Bags at TPA, where she has worked since the remote bag check opened at the new Rental Car Center in February 2018. Her kindness, relaxed attitude and sense of humor leave an impression on even the toughest of customers.
"Usually when checking into an airport, the employees aren't always the greatest help let alone the friendliest people," customer Stefania Di Stefano posted on Facebook after a recent trip through TPA. "My sister, cousin and I were very fortunate to have met Carol Clahar at Tampa International Airport and let me just say THANK YOU LORD!!!! This lady was the sweetest, funniest and most helpful employee I have met at an airport and I do a lot of traveling!"
Another customer, who was traveling with an ill friend and trying to manage both her and her friend's luggage when Carol stepped in and helped, sent a Sept. 20 email to Bags: "Carol went above and beyond. I want to thank her and let you know what a valuable employee you have in Carol."
Clahar loves working for Bags Inc., which has been a huge success at TPA, logging more than 200,000 checked bags for Southwest, Delta and American since it opened eight months ago. The service provides a huge convenience for travelers, allowing them to unload cumbersome luggage at the Rental Car Center rather than dragging them on the SkyConnect train and through the terminal and to print boarding passes so they don't have to go to the ticket counters.
"I love this airport and I want to help keep it number one in customer satisfaction," Clahar said. "When people, especially elderly travelers, come to this new facility and see kiosks and feel confused or scared or frustrated, I want to put them at ease. You can have the nicest and best facility in the world, but it means nothing if you don't have the customer service to go along with it."
Clahar loves going to movies with her friends and watching sports – football, basketball, baseball, you name it – in what little free time she has these days. After raising two daughters, Shawna and Allysia, she is finally returning to college studies and is currently working toward a bachelor's degree in Psychology by taking online classes.
She still considers herself, first and foremost, a mom.
Clahar is raising her 17-year-year old grandson, Amiri, who is getting ready to graduate from Jesuit High School next year. Three years ago, her daughter Shawna developed an aggressive brain cancer and died at age 39. Clahar still works through her grief and her loss today, but she continues to find solace and comfort in helping others, especially young Amiri.
When customers comment that she must be a mother, she smiles.
"I am a mother, a father and a grandmother," she said.