Employee Spotlight - Bruce Sather
(July 18, 2018) It was a high school course in Anoka, Minnesota, that sparked what would be a lifelong interest in aviation for Bruce Sather. That high school class on aviation and growing up near a General Aviation Airport where his Dad's friend would take him for plane rides propelled him to study Airport Management at the University of North Dakota in Grand Forks, one of the top aviation schools in the country.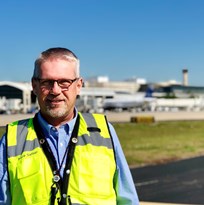 He got his first taste of working at an airport during an eight-month college internship at Centennial Airport near Denver, the nation's third largest general aviation airport with three FBO's and five flight schools. After graduating, he was asked to come back to work at Centennial Airport in the Operations Department, where his duties included snow removal operations and occasionally operating the snow removal equipment.
"That was a blast," Bruce said.
He moved to Florida in 1992 to gain experience at a commercial service airport, putting in seven years at Sarasota-Bradenton International Airport in a number of positions in the Operations Department. But his dream was to work about 75 minutes north at Tampa International, which he said had long had the reputation as being the "the world's best airport."
"In my college days and the first airport jobs I held, it was about 'Get to Tampa. If you get to Tampa airport, you've done it,'" he recalled.
In 2000, Bruce realized his dream and joined the Tampa International Airport team as an Assistant Director of Operations. Since then, he has held numerous positions: Assistant Director of Access Control/CCTV, Deputy Director of Operations - Terminal Services, Manager of Security Administration, and Manager of Terminal/Security Operations.
Three years ago he moved to the Maintenance Department, where he now works as Senior Manager of Building and Grounds. In that role, Bruce is responsible for the Airfield, Landscape, Building Maintenance, and Projects Sections along with the janitorial contracts.  He recently oversaw a massive runway repainting project, bringing that maintenance job in-house for the first time. The cost savings enabled him to justify the procurement of a Waterblasting StripeHog 7500 to use on the project.
"I really like the maintenance work. It's very tangible," he said. "It's something that I can not only see, but I can touch. When I look out and see that our airfield team just painted the whole east runway, I can say that I contributed to that.  We have a great team that I get the privilege to work with".
Bruce and his wife, Theresa, call Spring Hill home, or "South Georgia" he cracks, though in fact his commute is generally no longer than 45 minutes daily. He has three sons – Walter, Jacob, and Nicklas – and a 6-year-old granddaughter named Makenzie.
In his free time, he likes to golf, kayak, fish, and go out on his boat as much as possible. Bruce also reconnects each year with college friends back in Minnesota, where ice fishing is often on the agenda.
All in all, Bruce looks back at what he says has been a great career with zero regrets.
"When I need a break, I get out on the airfield," he said. "I get with the Operations or Maintenance guys or I go out by myself and watch the planes take off and land. I am fascinated by just watching planes, just like I did when I was a kid."