Employee Spotlight - Brian Washburn
(May 16, 2018) As Senior Manager of Airfield Operations, Brian Washburn works with a team that handles everything from the terminal and airfield inspection programs, gate assignments, cargo logistics, wildlife management, noise abatement and ensuring operations run smoothly during runway closures due to maintenance and/or construction.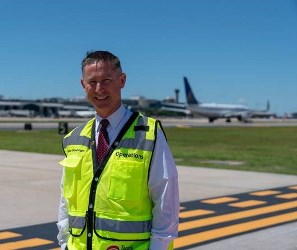 "I'm lucky enough to work with a true team of professionals who take their work very seriously," Brian said. "We all pull together in the same direction to accomplish great things."
The primary goal is the safety of the traveling public by ensuring the airport complies with FAA's Part 139 Airport Certification requirements. And so far, so good. The airport consistently performs well on the FAA's rigorous annual inspections, which include a 123-point checklist.
"The key to a successful inspection is extensive training and standardization of metrics and then communicating those standards so we all see everything the same way," Brian said. "We all stay focused on that goal throughout the year so we're ready when the FAA arrives. We don't wait until the inspection to take action."
The daily work varies. The team may organize a walk to remove debris from the airfield, or make preparations for the occasional arrival of the massive Antonov (An-124) cargo plane. 
Then there are weather issues such as the powerful nor'easters that rattled the mid-Atlantic and Northeast travel sector several times in 2018, leading to a trickle effect of flight cancellations throughout the U.S.
"If we get a weather event in the Northeast, one of the challenges is accommodating parking for diverted aircraft," Brian said. "This means heavy coordination with all airport stakeholders in an effort to help out our fellow airports that don't have room for additional aircraft."
And then, of course, there are those days when he teams up with the airport's social media team as host of a Facebook live from the airfield. The popular video tours often attract hundreds of viewers from around the world eager for an up-close look at the airfield and a prime spot on the runway to watch planes take-off and land.
"That's a perspective that not a lot of people get to see," Brian said. "And it's really a thrill. I personally never get tired of the aviation environment. It never gets old."
Originally from Kissimmee, Brian joined the U.S. Air Force in 1985, working in the air traffic control tower and radar facilities in Grand Forks, North Dakota, a time he jokingly describes as "nine months of winter, followed by three months of summer."
He then accepted a commission with the U.S. Coast Guard and relocated to Yorktown, Virginia, where he served as an administrative officer, which was followed by a four-year stint in Cape Cod.  From there, it was off to Kodiak, Alaska for nine years, and then another four years in Clearwater.
During those years he flew C-130 transport planes and H60 helicopters, and served as a flight instructor and check airman for both of those aircraft.
Brian developed his love all things aviation from his great grandfather, who served as an aide to General Omar Bradley, the senior commander of American ground forces in the June 1944 invasion of Europe and the subsequent defeat of the Nazi forces on the Western Front. Brian spent hours admiring his grandfather's shadow box of medals and black and white photos from World War II.
After his tenure with the Coast Guard, Brian worked for Solute Consulting in their engineering and training division. Keeping an eye out for potential opportunities, he saw an Airport Operations Specialist position open at TPA. He applied and was hired in July 2014.
Brian lives in the Pasco County town of Trinity with his wife Wendy, a medical technologist at St. Joseph's Hospital-North in Lutz. They have three children: Elisabeth, 23, just graduating from USF with a degree in Bio-Medicine; Connor, 21, who studies at Pasco Hernando State College in emergency medical services, and Zachary, 18, who is set to graduate this spring from J.W. Mitchell High School in New Port Richey.
In looking back on his career, Brian said it's great mentorship with other people that has helped him along the way.
"I've enjoyed working with all different types of leaders and their styles. There is always a take way from every person I've encountered," he said. "That, in my opinion, is how one hone's leadership and management skills."