Employee Spotlight - Antonio Hardeman
(August 17, 2017) For a job that requires parsing through budgets, organizing finances and providing guidance on annual expenses, there's no better guy on the task than Antonio Hardeman. The Tampa International Airport Budget Manager loves crunching numbers, matching practices with policies, creating Excel spreadsheets and studying how a budget flows through an organization.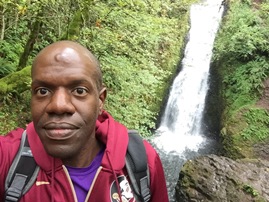 "My whole career has been nothing but budget," Hardeman said. "It's something I truly enjoy, particularly at the government level."
Growing up in Jacksonville, Hardeman preferred tinkering with electronics to playing sports and always knew he'd pursue a post-graduate degree, perhaps in law or medical school. He attended summer school throughout high school so he could graduate by age 17, had his associate's degree by age 19 and completed both his bachelor's degree and master's degree at Florida State University by age 23.
"I had a plan," Hardeman said.
It was while he was early in his FSU studies pursing his undergrad degree in Political Science that he took an interest in public administration and finance. He was accepted into FSU's prestigious Public Administration program and got his Master of Public Administration specializing in budgeting and finance.
From there, Hardeman worked a series of jobs working in budget offices of various government agencies. He started as a management trainee in Miami-Dade County, handled budgets for the City of Jacksonville, worked in the budget office for the Governor of Arizona, then for the City of Durham in North Carolina.
He returned to his home state to help out his parents in 2010, landing a job managing budgets for the City of Tampa. And about three years ago, he brought his wealth of experience to the Hillsborough County Aviation Authority as a Budget Manager.
In addition to balancing budgets for the various departments at the Authority, Hardeman hopes to also be the main administrator of the organization's new Hyperion financial system after it goes to the HCAA Board for approval next month. He says the new system would be far more efficient and time-saving than the current system. Hardeman used Hyperion at the City of Tampa so he's very familiar with how it works and how to implement it.
Hardeman owns a home in Riverview, where he likes to entertain friends by grilling or cooking, pouring wine and playing music. He spends a lot of time working out at the gym, loves to go hiking and got the travel bug about eight years ago, when he began taking regular trips to the West Coast and around the world to places such as Berlin, Paris, Amsterdam and Havana.
His favorite travel buddy is his younger sister, Bernadette, and she leaves most of the trip planning to him. True to his interests, he likes to plan out the expenses, time allotments and general budgeting for each trip and has all of his trips since 2009 saved in the same document file on his home computer.
He's currently working on an Excel spreadsheet for their upcoming trip to Maui.