Employee Spotlight - Amy Flack
(July 19, 2017) As Amy Flack was looking forward to beginning her job at Tampa International Airport in 2014, an acquaintance who already worked at the airport told her: "Don't worry about lunch on your first day. I'll treat you."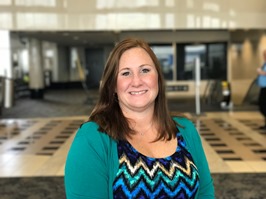 Amy ended up dining on turkey and stuffing with gravy, beans and pumpkin pie with hundreds of other Aviation Authority employees at the annual service awards luncheon.
"She told me, 'It's not like this every day,' " said Amy, a procurement manager.
Still, in the three years since, Amy said she's discovered a camaraderie and commitment to excellence that has led to strong friendships and professional growth.
"We laugh and cut up but when it's time to get serious we get serious," she said of the procurement team. "We want you to be able to get what you need, when you need it at a great price in the right way. We're all here because we like to help people."
Growing up in Hudson, Florida, she said, she wasn't thinking she might one day be a procurement agent. No one does that, she figures.
Her professional journey started with community college, where she earned a degree in paralegal studies and then went to work for a background investigations company before joining  her husband in his solo practice designing houses and commercial buildings.
Eager for the daily back-and-forth with co -workers, she accepted a job with Pasco County School District procurement department. She found her niche. Amy worked there nine years before accepting a position at TPA. 
She likes the deadlines and the always-new territory. One month she might be working on a procurement for legal services, later it might be air service development.
"You have this document that becomes something amazing," she said. Case in point: She prepared the paperwork for the procurement for the spa services, and now is eagerly awaiting the day when those storefronts open at each of the airsides.
Now, she's working on the remote baggage check procurement for the new TPA rental car center, a feature that will make the facility one of the most customer friendly in the nation.
Recognitions for Amy have been coming in fast and furious.
In July, she received the 2017 Manager of the Year Award from the local chapter of NIGP, the Institute for Public Procurement. She will receive the inaugural NIGP 2017 Young Professional Award at the NIGP annual conference in August, and is one of three finalists for NIGP's 2017 Professional Manager of the Year Award.
"Amy's activity with the Airport Purchasing Group, as well as the National Institute of Government Purchasing really benefits the Authority by providing national exposure and allowing us to keep a pulse on industry trends," said Procurement Director Ed Haines. "We are very proud of her contributions and commitment."
Mimi Fernandez, a procurement process manager at TPA, said she most admires her friend Amy's willingness to accept any type of challenge.
"In fact, she embraces additional responsibility, especially when she has an opportunity to learn something new," Mimi said. "Our department has reaped the benefits of her many contributions and accomplishments."
Amy and her husband have four children, ages 6, 17, 20 and 21. In her spare time, Amy enjoys running. She and her husband belong to a bowling league every Friday, and last year their team were league champions.