Employee Spotlight - Alan Stull
(November 17, 2016) Just about everyone who has worked or spent any time in Tampa International Airport's terminals has encountered Guest Services Representative Alan Stull. He's the friendly face at the Main Terminal information desks, the guy stopping to help any passenger who looks even slightly lost, the bus driver proudly giving the Airport grand tours.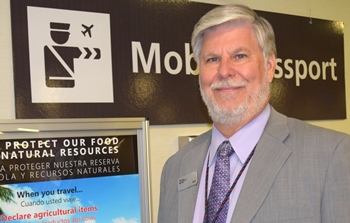 Alan knows TPA inside and out, having first worked at the brand new Airport in the mid-1970s at ticket counters, baggage claim and operations for Air Canada, then Air Florida, then Midway Airlines. He left when Midway left, then returned decades later as a maintenance worker, later moving into Guest Services. Not only does Alan know his way around the terminals and airfield, but he knows how the Airport's mechanics and structures work, and he can even operate a jet bridge.
"I've seen pretty much everything," Stull said.
Alan grew up on his parents' farm in North Liberty, Indiana, a tiny town just outside of South Bend. He attended school with the same 40 or so children from kindergarten through high school graduation, and he learned how to make repairs and fix up houses from his father, who did such repairs and worked in a lumberyard to make ends meet while he wasn't growing soybeans and corn on the farm.
After high school, Alan moved to Michigan with his parents and joined the U.S. Air Force as a jet engine specialist, working as KC-135 tanker engine mechanic. After leaving the military, he had his sights set on working as a jet engine mechanic for a major airline. He ended up working for Tampa International Airport in desk and operations jobs after his parents moved to the area.
After leaving TPA, Alan enrolled at St. Petersburg College and studied Health Information Management, then went on to get his bachelor's degree in Criminology at the University of South Florida. He worked with troubled youth for a couple years after graduation, then was drawn into the investigative field. He was accepted into the Florida State Fire College and became a civilian certified arson investigator.
With that experience, Alan became an insurance adjustor and inspector for several years. He built up his own business and then sold it, retiring at the age of 50. Retirement didn't last long, though.
"I got bored," Alan said.
Having mechanical and maintenance experience, and enjoying remodeling as a hobby, he decided to apply for a job in TPA's Maintenance Department and soon joined his home Airport once again. Within a year, he got to know several employees in Guest Services who encouraged him to apply for a position in their department since he was so friendly, knowledgeable about the area and good with people.
In the past 12 years of his second career stint at TPA, Alan has enjoyed volunteering for such events as the Gasparilla Children's Parade, the runway 5K and St. Pete Pride. He helps Director of Guest Services Brenda Geoghagan log customers' compliments and complaints and conducts commercial driver's training for the Airport tour and shuttle buses.
But his favorite thing is helping TPA customers, particularly those who are elderly.
"I always think if that was my mom and dad, I'd want to know someone was looking out for them while they're trying to make their way through the Airport," Alan said.
Alan lives in his Town 'N Country home of 40 years with his wife, Diane, whom he met during his Air Florida days. The two recently celebrated their 30th wedding anniversary and share a long-running New Year's resolution: To expand their horizons.
Being close to TPA makes that easy. Alan and Diane have been to England, Jamaica, Switzerland, Germany, France and Mexico. They've been gem mining in North Carolina, diamond mining in Arkansas and have visited Elvis's Graceland. They've also taken a cruise through the Panama Canal, soaked in Iceland's Blue Lagoon and – despite Alan's fear of heights – they've gone ziplining in Colorado and Niagara Falls.
Alan is excited about what lies ahead: more nonstop flights at TPA, which means more adventures for him and Diane.