Employee Spotlight - Adam Juriga
(October 4, 2017) Born and raised in the Tampa Bay area, Southwest Airlines ramp agent Adam Juriga has early memories of his father bringing him to Tampa International Airport to watch planes land and take off and take photos.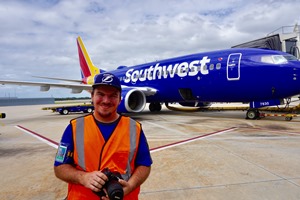 "I guess that's when I got the 'AvGeek' bug," Juriga said.
"AvGeek" is a widely used term in the world of aviation enthusiasts on social media, coined to describe a worldwide community of aviation photographers and aircraft geeks. Over the past few years, Juriga has a name for himself among the AvGeek circles, gaining nearly 17,500 followers on his Instagram account "prettyflyforarampguy." His access to great shots of planes from the TPA ramp and his photo skills have allowed him to share beautiful shots of various types of aircraft against colorful Tampa Bay backdrops.
"When I first started trying out Instagram, I'd post photos of my cats and stuff," Juriga said. "Then I started posting photos of planes and I noticed I'd get hundreds of likes and new followers. It kind of just took off from there."
Tampa International Airport's social media team also noticed Juriga's photos a few years ago and regularly interact with him, often sharing his photography on the TPA Facebook and Instagram accounts to help promote air service and the Airport.
Juriga has worked as a ramp agent for nearly 10 years, starting out with Delta Global Services doing ground services for Continental and United. He also worked for JetBlue for several years, where he moved around to various Florida airports, including Ft. Lauderdale and Orlando. He landed a job with Southwest about a year ago and returned to TPA, his home airport.
Juriga said he loves being around planes all day and hopes to go into air traffic control and dispatching. He plans to attend FAA air traffic control training in the near future and said he's prepared to go wherever he might land a job in the field.
"I really like working for Southwest and it's fun working as a ramp agent," Juriga said. "Every day might be different."
As an avid planespotter, though, Juriga is thrilled to be at TPA. He enjoys capturing photos of special livery designs and larger planes such as Icelandair and British Airways.
When he's not working and taking photos, Juriga likes to visit air shows, play video games, travel and meet up with other AvGeeks. He's a diehard Tampa Bay Lightning fan and also an animal lover. He lives in Citrus County with his longtime girlfriend, Melissa, an overweight cat named Rocky, another cat named Violet and a pitbull named Gator.
Juriga's photos can be found by searching his name on jetphotos.net and visiting his "prettyflyforarampguy" Instagram account.