Employee Spotlight - Aaron Eddings
For 10 hours a day, four days a week, Aaron Eddings is the friendly face of the Airside C shuttle. He stands in the same narrow space, welcoming passengers, gently telling them to slide down to make room for others and chit-chatting to put them at ease as they wait for the next shuttle to come take them one leg closer to their journey.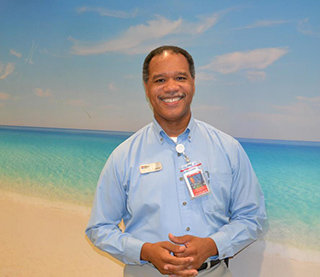 Aaron, hired as one of the new temporary Customer Service Representatives last November, has learned to read guests' body language and knows when to ham it up and when to back off. When he starts his shift before dawn, for example, "people just want to get to their flight and don't want to talk," he said. Around 6 a.m., when they've had their coffee and are easing into the day, he turns up the charm. By noon, he keeps things humming with smiles, small talk, conversations about visiting grandchildren and fun places.
"It's all in the delivery," Aaron said. "You don't want to be too chipper at 5:30 in the morning."
Even as a temp, Aaron already feels like he's an important part of Tampa International Airport, and like the other 21 CSRs recently hired, he brings a warm and helpful touch to the shuttle closures and other changes brought on by the main terminal expansion construction projects.
It's a perfect job for someone like Aaron, who loves airports, loves people and loves talking.
"My wife says I could talk to a wall and have a great conversation," he said.
Aaron grew up the second youngest of six children, and his father was a radar intercept officer in the Air Force, moving his family all over the world. He was born in South Dakota and as a child lived in Thailand, Hawaii, California and other states before his father eventually retired in Orlando. There, he went to middle school and high school and wound up getting a job as a flight attendant for Northwest Airlines after he graduated. He enjoyed flying from city to city for nearly five years before deciding to go to flight school in Orlando to become a pilot.
He earned his private pilot's license and intended to go for a commercial license, though he soon found himself out of money and had to go back into the work force. Over the next several years, Aaron worked front desk and customer service jobs for some Orlando hotels and eventually for Disney, where he said he honed his best guest relations skills.
It was during his hotel career that he also met his wife, Susan. He has a 22-year-old daughter with Susan, a stepson Joel and two stepdaughters, Livia and Nancy.
He and his wife also worked for some banks doing customer service and collections, which moved them to Tampa in 1995. After Aaron's last bank position was moved to Arizona, he went to work for a staffing and scheduling company, which eventually downsized, leaving Aaron jobless early last year.
Aaron was looking for a paying job when he saw something online about TPA's Volunteer Ambassador program. It didn't pay but he was excited when he got the call to come train to volunteer one day a week, greeting passenger at the international arrivals area and helping direct out-of-town guests down in baggage claim.
"I was in hog heaven," Aaron said.
In November, Aaron was offered a temporary, full-time position as one of the new Customer Service Representatives and was thrilled. He has embraced his role at the Airside C shuttle, the busiest shuttle at TPA.