Cargo business is booming at TPA
(Sept. 20, 2018) Weeknights at 11 p.m., when most people in Florida are snug in their beds or chilling out to late night TV, dozens of workers report for duty at the Tampa International Airport north cargo building.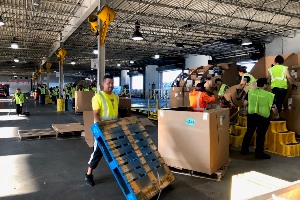 Not long ago, the building sat vacant and ready for the wrecking ball. But these days, the space buzzes with activity around the clock as trucks come and go and workers sort boxes of all sizes for delivery to Amazon customers.
Early mornings are especially busy when about ½ mile away on the airfield as many as six planes operating for Amazon and UPS open their cargo bays at the same time to empty and receive packages.
"It's very fast-paced. We're all working hard to make sure we meet our delivery times," said Tim Ewin, Air Operations Manager for UPS at Tampa International. "We kind of motivate ourselves by trying to beat that Amazon Prime plane."
While FedEx has been a long-time cargo partner for TPA, the arrival of Amazon in 2015 and UPS in 2017 has given this line of business a jolt. Cargo volume at TPA has doubled since 2015. In 2017, TPA passed the Fort Lauderdale airport to become Florida's third busiest air cargo site and is nipping at the heels of Orlando International Airport for the number two spot. TPA's FY2019 budget calls for $5.2 million in cargo revenues, up from $2.6 million in FY2015. 
The burgeoning business now employs more than 850 people, who bundle packages, load and unload planes, drive tugs and trucks and operate deck loaders and other equipment. In August, 18 cargo planes operated on peak days at TPA.  When the holiday buying binge begins, that will jump to 23 operations on peak days.
Six different companies that three years ago had no presence at TPA now comprise the cargo operations. That includes LSGTX, whose employees unload boxes from trucks, stack and wrap them in the shape of an airplane fuselage for efficient shipment, then load them onto dollies for delivery to the Amazon planes. They also do the whole process in reverse.
LGSTX now employs more than 300 people in its TPA sort facility, up from 100 people three months ago.
Providing facilities for all the activity is no small task. Beth Zurenko, Vice President of Airport Real Estate, and her team receive space requirements from participating companies and fit them together like pieces of a puzzle.
"Parking all of these large airplanes has taken a herculean effort by all of our teams to ensure that the operation is safe and can accommodate the growing volume. It's been a great problem to have but a very tricky one," Zurenko said.  "When I came to work at this airport 5 ½ years ago I would never have anticipated that cargo would be such a source of growth for us. Amazon carriers approached us in August 2015 to operate one 767 cargo operation per day, which now seems like ancient history."
With more cargo growth on the horizon, the Airport's 2019 capital program includes a commitment of up to $69 million investment in expanded facilities.
For now, cargo operations are concentrated on a site that formerly held Airside D.
"The challenge to the team was what can we do to accommodate the vast growth in cargo operations," said Brian Washburn, senior manager of airfield operations. "We had to remove light poles and reconfigure spaces to accommodate all the planes."
On a recent Wednesday at 5 a.m., that spot was a whir of beeps, lights, shouts and churning motors with five planes in position. While workers extracted cargo from two openings on a UPS plane that flew in from Philadelphia, others pulled packages from four openings of a Prime Air 767.
Meanwhile, as dawn approached, construction trucks and passenger planes were also on the move.
"It's exciting to be around an airport with so much activity," Ewin said. "You feel like you're part of something big."