Architect Who Helped Build Original Tampa International Airport Watches Vision Continue
(March 27, 2014) - It was sometime during the mid-1970s, shortly after midnight, and Gus Paras had just stepped off a plane in Washington, D.C., and hopped on a transfer trolley. He overheard a conversation between two military personnel sitting nearby and one of them asked if the other had ever been through Tampa.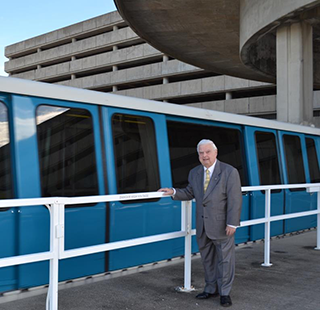 "Tampa? What's that?" one of the guys asked.
"It's a little city down in Florida," the other said. "And boy, do they have one hell of an airport."
Paras, 75, still chuckles when he recalls the story. As a former Reynolds, Smith and Hills project manager who helped build Tampa International Airport in the 1960s, Paras has always felt a special bond with the cutting-edge airport he once helped create. And now, as TPA embarks on a new expansion and construction era – the largest since it opened in 1971 – Paras is watching with keen interest.
The Master Plan projects, including the upcoming main terminal expansion and consolidated rental car facility and people mover construction, are what will truly put TPA's revolutionary design to the test of time. Back in the 1960s, Paras recalls, the airport was designed and built far beyond the community's needs at the time, but also with the expectation that more development would be needed well after the original designers were gone.
"The reasons the airsides were built separately from the landside terminal is because we felt expansion would occur at the airsides and that more airsides would be built," Paras said. "We really looked at the long term and thought there might be a need to build another airport in the future, but we also thought there might be some land constraints with it being an urban area."
At the time, aviation was a rapidly growing industry, and many new airports were getting built around the country. Most, Paras said, were designed to satisfy the needs of the airlines, which demanded convenience and ease of airplane movement at the airsides.
But Herbert Godfrey, Tampa's airport director in the 1960s who drew the now-legendary napkin sketches of the imagined new airport design, wanted Tampa International Airport to be more customer-focused, Paras said. As Godfrey told the Orlando Sentinel in 1991, ''I thought airports are supposed to be for people, not for machines.''
Godfrey left TPA before the new airport was constructed, turning the reigns over to the next director, George Bean, who would oversee the project to completion. Paras, who was in his mid-30s at the time, remembers the Godfrey's tenets of customer service remaining in the plans – particularly those dealing with how far people had to walk from concourse to concourse or from car to flight gate.
"There was a set of criteria that was developed by the Aviation Authority, and one of the biggest influences on the criteria was that no one should walk more than 700 feet from car to airplane," Paras said. "That's what really drove that design."
The result was an airport that is known, even today, as one of the most user-friendly airports in the world. The people mover system was the first to ever be used in airports – or any facility that Paras could recall – and so was the automated baggage system.
Tampa International Airport was clearly ahead of its time, said Paras. And the $85-million price tag to build it wasn't considered cheap. Carrying out such a project took the teamwork of some radical thinkers combined with the full support of the community and its city leaders.
"I must say that the folks that were politically responsible for it were very forward thinking," Paras said. "And probably took some risks in supporting something like that."
And this is something Paras felt it was important to point out in regard to the Tampa Bay area's airport, city and tourism and business officials today, especially as they discuss ideas, designs and funding for some of the massive changes taking place in coming years.
"I believe it took a lot of political will at that time to do this," Paras said. "These major projects don't just happen by themselves. They happen because there's a board, city leaders, chambers of commerce and community partners that are behind them."
After the 1971 unveiling of Tampa International Airport, Paras went on to run his own architectural firm, Paras Associates, which worked mostly on designing office buildings and several Tampa Bay area public schools. Now retired, Paras believes he may be the only worker who was involved in the creation of the 1971 Tampa International Airport who is still around.
Paras has followed reports of new plans for the airport and he has seen the Master Plan. He is excited to watch the new developments and additions take shape, and he hopes the structure of the original TPA holds up as well as its forefathers intended.
Most of all, Paras wants everyone who passes through TPA to continue to be impressed, and even surprised. Tampa, Paras believes, will always have one hell of an airport.