As passenger and staff numbers rise, TPA examines the question: Who are we?
With more people spending time at the Airport every day, understanding our passenger and employee demographics becomes more important in serving our customers, our workers and our community.
(Oct. 3, 2018) Tampa International Airport is experiencing historic, record growth after serving 19.2 million passengers during Fiscal Year 2017 and expecting to hit around 21 million in FY18, which ended last month. The Airport has more concessions, more facilities and more employees. We've doubled our number of rental car companies, we've seen a doubling in cargo volume in the last few years and we now have more than 11,000 people working at TPA.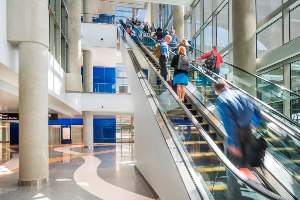 So who are these people? Where do they come from? Most importantly, what can TPA learn from the demographic makeup of its passengers, guests and workers?
"Knowing who we are is the best way to inform what we do, both as an airport and an organization," TPA Director of Research and Air Service Development Kenneth Strickland said. "Passenger numbers and statistics don't mean anything if we're not diving deeper to understand exactly who makes up these numbers, what they value and how we can best serve them now and in the future."
A recent study of TPA's overall numbers show some interesting facts, trends and percentages. Among the highlights:
Most of our travelers are here for fun: 76 percent of our passengers travel for leisure rather than business.
Women outnumber the men: 60 percent of our passengers identify themselves as female.
Domestic travel is still our bread and butter: While we continue to build our nonstop international routes, 90.9 percent of our passengers still travel within the U.S.
Our passengers begin and end their journey at TPA: A whopping 94 percent of our passengers are making TPA their starting or ending point of their itinerary, as opposed to the 6 percent who are here on a layover
The lines at the ticket counter are getting shorter: Less than 25 percent of our passenger check in at the counters as a growing number of people now check in through websites or mobile sites/apps.
Southwest Airlines is our No. 1 employer: Southwest employs 891 workers at TPA, while TSA and the Aviation Authority tie at No. 2 with 690 employees each.
A majority of our workers reside close to TPA: 63 percent of our employees live in Hillsborough County, 18 percent come from Pasco County and 14 percent commute from Pinellas County.