TPA begins a busy year of construction on Master Plan Phase 2
(January 3, 2019) A New Year is here and so is Master Plan Phase 2.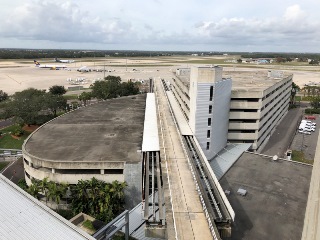 In 2019, Tampa International Airport is slated to begin eight projects related to Phase 2 – the next of a three phase expansion that will ultimately help the Airport serve millions more passengers each year.
Get ready – it's going to be busy.
This month, Kimmins Contracting will begin staging heavy equipment for the demolition of the Red Side Rental Car Garage and old Airside D shuttle guideway, which must be removed to make way for new curbside express lanes and a new shuttle guideway to a future Airside D.
Working back from the airside to Main Terminal, crews will begin by removing sections of the Garage's exit ramp followed by deconstruction of the D guideway. The work is expected to last into the spring and will require some overnight detours so that workers can safely demolish portions of the ramp & guideway that span the George Bean Parkway and the Bessie Coleman Service Road.
Once the guideway is removed, crews will take down some of the exterior panels on the garage, which is slated for demolition this summer.
Aside from the work on the Red Side Rental Car Garage, 2019 should also bring the first signs of construction on seven other Master Plan projects, including an atrium and pedestrian bridge at the SkyCenter development area, the blue side curb expansion, a new Central Utility Plant, the widening of the Parkway and a new Taxiway A.