Changes coming to the Long Term Parking Garage
If you are using the Long Term Garage in the coming weeks, pay close attention to signage as Tampa International Airport prepares to open the bottom two floors for use as public parking.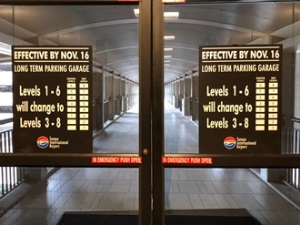 The addition of the first two floors, which previously housed rental car operations, means the garage is converting from a facility with six levels of parking to an eight-level garage and the new numbering system will reflect that. 
Crews began changing out some 6,700 signs on Nov. 1. To assist our guests, signage describing the change is located throughout each level of the garage, including all stairwells and elevators.
Adding two new bottom floors means that each existing floor of the Long Term Garage increases by two levels.
Level 1 becomes Level 3
Level 2 becomes Level 4
Level 3 becomes Level 5
Level 4 becomes Level 6
Level 5 becomes Level 7
Level 6 – the top floor – becomes Level 8
The signage changes will begin on Level 8 and crews will work their way down. All new signage will be installed by Nov. 16 – in advance of the busy Thanksgiving travel season.
The change increases capacity of Long Term Parking and adds 2,178 premium parking spots at the Airport. Located just a short walkway from the Main Terminal, the Long Term Garage is consistently the busiest and most popular parking option at the Airport. For more information, please message the Airport at Communications@TampaAirport.com.