Heading home for the holidays and in need of some quick gifts? Have a couple hours to spare for some fun Christmas shopping? We've got lots of new and exciting gifts, products, snacks and apparel at Tampa International Airport this year, with nearly a third of our 69 new shops and restaurants now open. Check out these fun ideas for that special person in your life. We have something for everyone!
FOR THE BEER CONNOISSUER 
Cigar City Brewing is one of the most well-known craft breweries in Tampa, as well as one of the most popular bar-restaurants at Tampa International Airport. Show some love with a Cigar City tumbler, hat or t-shirt. $15 and up. Cigar City Brewing, Airside C.  
FOR THOSE WITH COLD TOES
You know you've reached the threshold of adulthood when you enjoy getting socks for Christmas. These tube socks with images of otters on motorbikes or sayings like "Babe-raham Lincoln" are warm, super fun and great conversation pieces for that colorful character in your life. $20. Ron Jon Surf Shop, Main Terminal. 
FOR THE COFFEE SNOB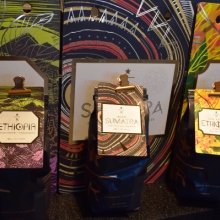 For some people – you know who they are – only the finest, rarest, small-batch roasted coffee beans collected from the most exotic locations in the world will do. We're not judging, we're just saying. $17.50 for a bag of whole beans, Airsides A & F.
FOR THE LAST-MINUTE DINNER INVITATION
If you're heading straight to a holiday meal with friends or family, impress them by picking up a loaf of Irish soda bread, made fresh and in-house at the famous Four Green Fields, an authentic Irish pub patterned after the original location near downtown Tampa. $7. Four Green Fields, Airside E.   
FOR THE GREAT OUTDOORSMAN (OR WOMAN)​ 
If the huge tank filled with native fish outside of RumFish Grill doesn't inspire you to explore the deep, blue sea, these prints and other merchandise with artwork by Jamaican marine wildlife artist Guy Harvey will. $5 and up. RumFish Grill, Airside C.
FOR THE BUDDING BOOKLOVER 
Inspired by the classic "Goodnight Moon," this Tampa-themed children's storybook is filled with beautiful illustrations of Ybor City, Tampa Bay Lightning action and other scenes from around town. A great gift for Tampa fans all ages. $18.85. NewsLink, Airside C.
FOR THE CHOCOHOLIC
No stocking would be complete without a little Hershey's or foil-wrapped Santa. But for a real treat, pick up one of these Sweet Diva's smooth, rich chocolate bars or candies made right here in our own St. Petersburg, Fla. $5.50. NewsLink, Airside C. 
FOR THE SWEET TOOTH
Warning! These brittle little bites of chocolate-covered Toffee to Go are highly addictive. Pick up a bag and see why Oprah made this Tampa-made treat a Favorite Pick in 2013. $16.99. Newslink, Airside C.
FOR THE FUTURE AVIATOR 
Your pint-sized top gun or miniature NASA astronaut will love wearing these authentic-looking pieces of apparel. These fleece-lined, patch-covered flight jackets also come in pink, and the NASA uniform is perfect for Halloween or make-believe playtime. $29.99-69.99. Mindworks, Main Terminal.
FOR THE HARD ROCK FAN 
For collectors or eBay sellers, Hard Rock Cafe pins are hot items, often going for as much as quadruple or more than what they originally cost. The TPA Hard Rock also sells shirts, guitar picks, baby onesies and other fun gear. $10 and up. Hard Rock Cafe, Main Terminal. 
FOR THE CLASSY TRAVELER
If you know someone that travels a lot, splurge and get him or her a well-made, upscale Tumi bag or travel accessory. The Airside F shop sells everything from luggage scales to electric adaptors to top-quality hard-shell suitcases. $50 and up. Tumi, Airside F.
FOR THE COOL CAT 
Just past the TSA checkpoint at Airside C, Time Zone/Shades sells the latest styles and hottest brands of sunglasses for men and women, as well as Lacoste, Fossil, Diesel and Citizen watches. Fashionable AND functional! $16 and up for sunglasses, $79 and up for watches. Time Zone/Shades, Airside C.
FOR THE SCENT-SITIVE TYPES 
If you're looking to buy local this year, these heavenly and unique-smelling Seventh Avenue Apothecary candles are made by a small business in Tampa and make perfect gifts. Perfect for lighting at bath time, dinner time, party time or anytime. $8 and up. NewsLink, Airside C.
FOR THE DINNER PARTY DIVA 
Not only does Columbia Restaurant serve some of the best Spanish food in town, it also sells these cool painted carafes and sangria mixes to go inside. The 111-year-old restaurant is a historic Ybor City landmark, so it's also a great gift for someone who misses Tampa. $29.95 carafe and $4.95 sangria mix. Columbia Restaurant, Airside E.
FOR THE FLORIDIAN AT HEART 
If you're heading up north, take your friends and family some edible pieces of Florida sunshine. The CNBC news convenience store sells a wide range of snacks, including alligator jerky, orange-flavored gummies and Key lime cookies. $3.00 and up. CNBC, Airside A.